BEACH HEAD MOBILE (VR)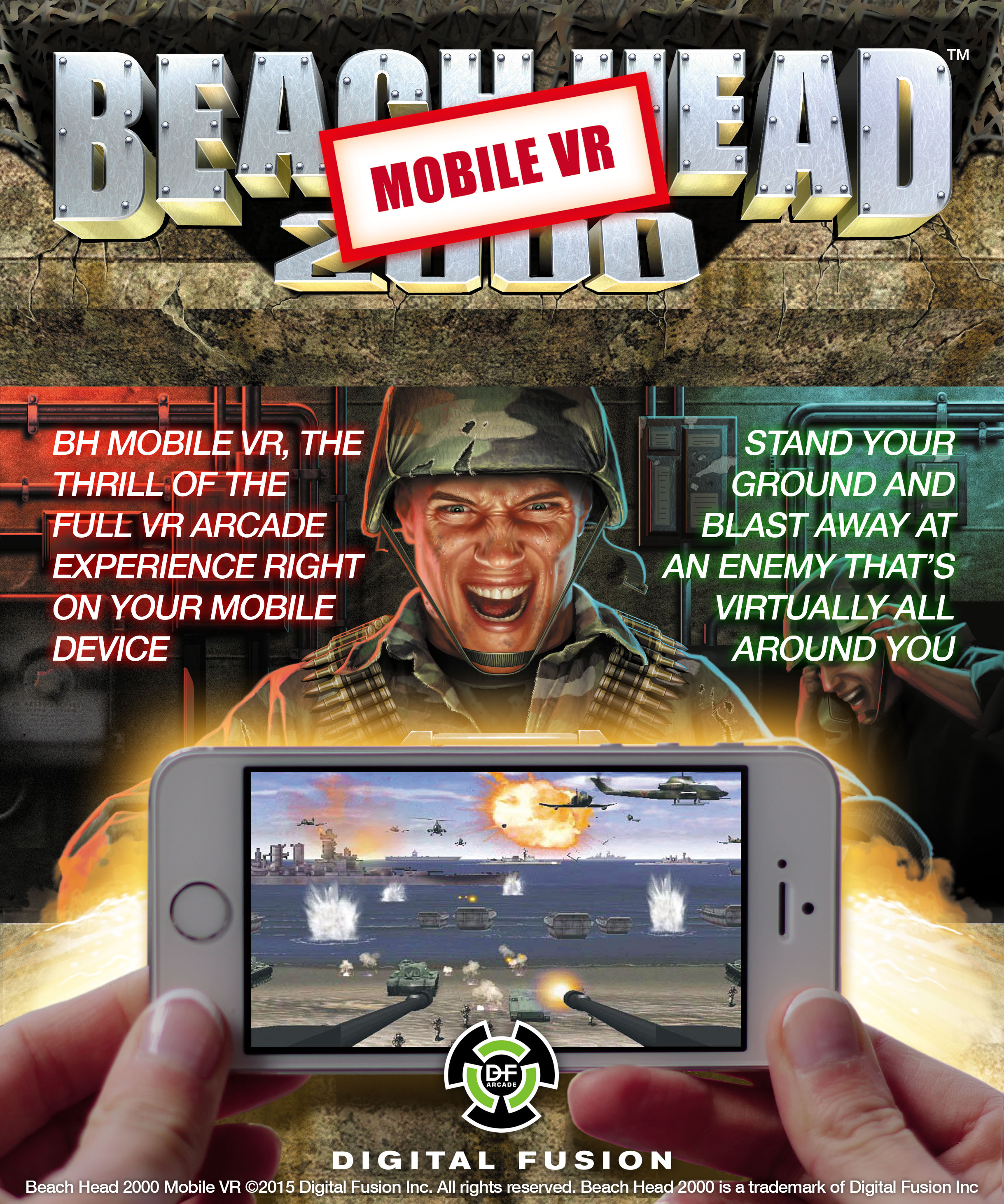 What is BEACH HEAD MOBILE (VR)?
BEACH HEAD MOBILE (VR) is a new hard-core, non-stop, adrenaline-pumping first-person action shooter based on the classic BEACH HEAD 2000 only now for your mobile device. Again as a lone gunner, you are the last line of defense against an overwhelming onslaught of enemy fire. You will be rattled as your high-caliber twin-barrel machine gun fires, and jolted as you fire the cannon and volley missiles at incoming aircraft and armored vehicles. BEACH HEAD MOBILE (VR) will keep you at the edge of your seat until the battle's bitter end.
But this is not your ordinary mobile game that you play while sitting still because in BEACH HEAD MOBILE (VR), the battle is all around you and you can literally and physically be the center of attention.
In Fixed Position Tilt Screen Mode, you'll tilt the phone to spin in the direction you want to shoot, but if you choose the body-twisting Free-Motion 360º All Around Mode, you'll be swiveling around like a mad man blasting at an enemy that only you can see.
That's right, because BEACH HEAD is a turret game and just like a turret gunner moves and turns in real life, you'll move and turn around with your mobile device! Just imagine the scene of you and your friends spinning around – in your chair at work, waiting for a train, or just standing at the mall – while onlookers wonder what the heck you're doing. "Just playing BEACH HEAD!" You'll tell them if they ask.
Mobile Mobility
With the new BEACH HEAD MOBILE (VR) you get the best of both worlds. You can enjoy the thrill of the Full 360º All Around Virtual Reality arcade style game experience, and you can take the non-stop adrenaline pumping action of the game anywhere and play it anytime you want. And if you know BEACH HEAD, you know that's a very exciting proposition on its own, but we are also adding some very powerful mobile-specific features that will enhance the game experience even more.
Features like:
Motion Feedback. Now you'll feel the hits even when you do not see the shooter and feeling every hit will make your experience more intense, addictive and exciting.
Surround Sound. Surrounding sound will help you by making you more environmentally aware of what's around you while making the (VR) experience more immersive and complete.
New Characters and Story Lines. Meet Drill Sergeant Prick and your relief body Bob and face off with your ultimate nemesis Musso-Khan, whose favorite –and only saying is ATTACK!! ATTACK!! ATTACK!!
And now...
LET'S TAKE OVER THE WORLD!!
The original BEACH HEAD game was based on a very addictive level/point system and many reached very high-level scores, but there was no official recognition universally of any kind for these top scores. Without the wide spread connectivity like we have today all the glory remained local to your desktop, that one arcade, or at best to game forum discussions and scattered postings in early social media networks.
But now, with BEACH HEAD MOBILE (VR) and the universal connectivity, we have the opportunity to do it right by introducing the BEACH HEAD Worldwide "TAKE OVER THE WORLD" Score Competitions. Literally just register on the BEACH HEAD community of friends and enter the competition for 'Top Scores' and 'Champion of the World'. Now you get all the fame and glory you've earned and deserve, no more anonymous champions, nor forgotten heroes…
WORLD DOMINATION with features like...
Beach Head and Virtual Reality
We are not new to the notion of (VR) gaming. In fact, the BEACH HEAD VORTEK Hood in the original arcade version was a first to the Virtual Reality gaming world.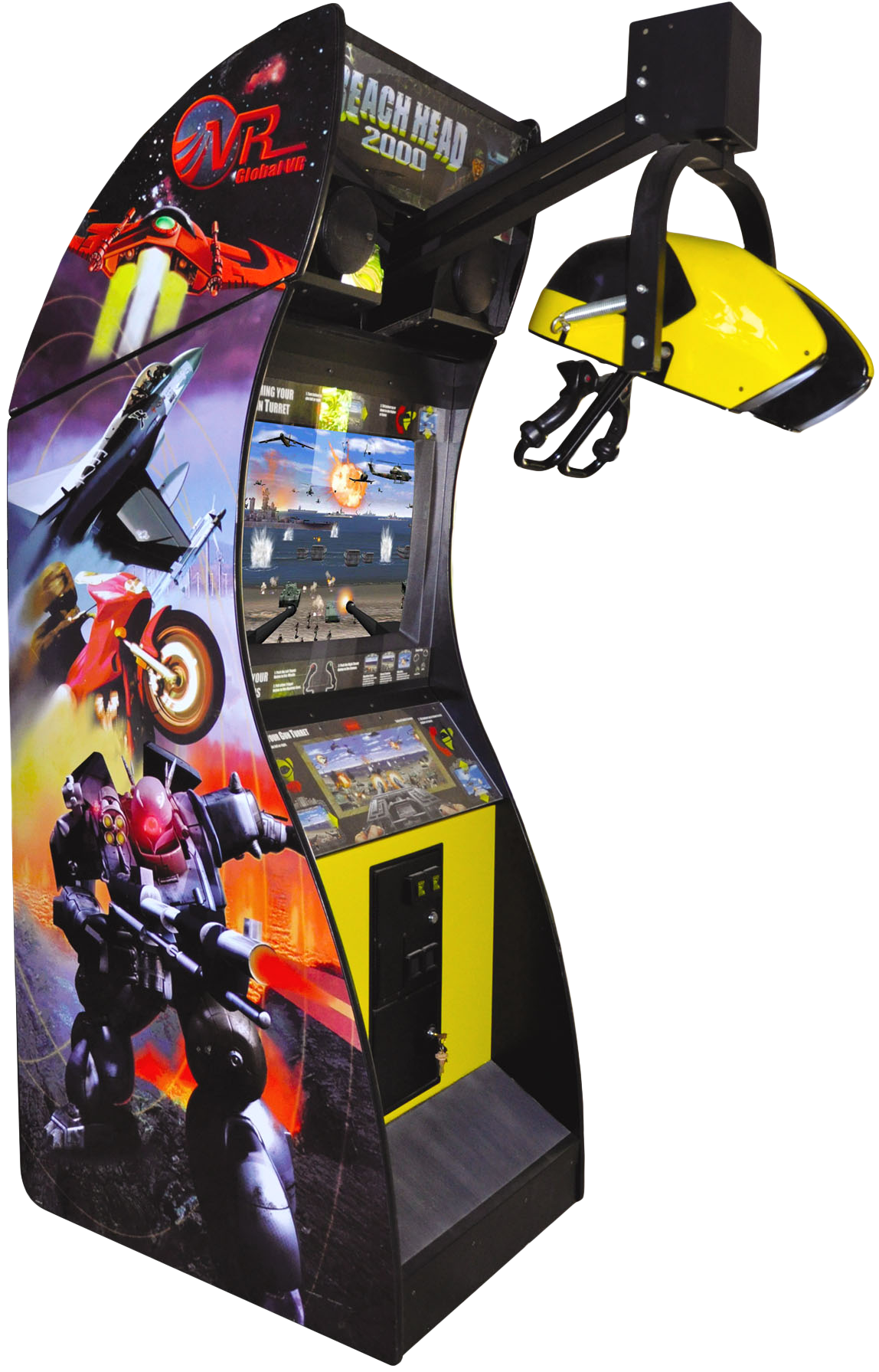 In the original arcade hit, players lowered a Virtual Reality Hood over their heads allowing them to move their entire body as they pivoted around (in six degrees of motion). Now with the BEACH HEAD MOBILE (VR) version, the enemy will be coming at you from all directions of the virtual battlefield, a window to a 360º world all around you, wherever you point your mobile device.
And now...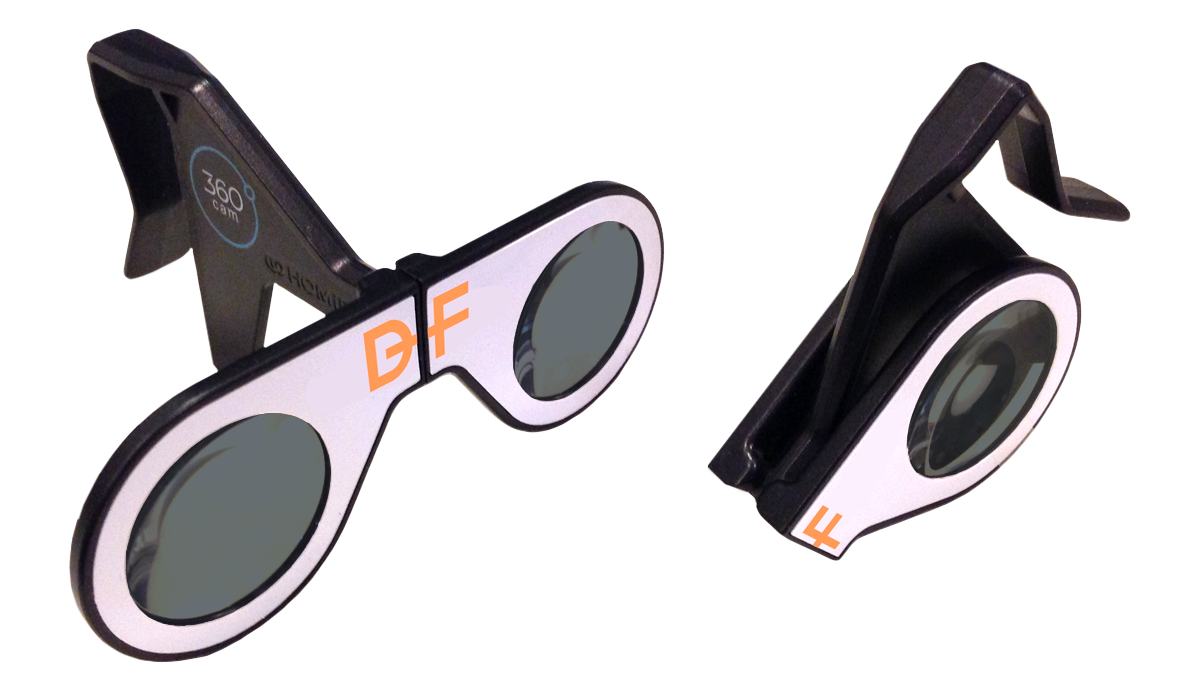 VIRTUAL REALITY FOR EVERYONE, EVERYWHERE!
Once again simplicity is the best way to go and we're excited to introduce BEACH HEAD MOBILE (VR) with STEREOSCOPIC 3D Glasses. You can now have VR on the go and play anytime, anywhere. The BEACH HEAD MOBILE (VR) Glasses solution is not only simple and very easy to use, but it's also affordable. And most impressive, it's fully compatible with all of the current smartphones in the market today (IOS & Android). That means Virtual Reality for everyone, and an install base of hundreds of millions of users worldwide. Let us repeat that, an install base of hundreds of millions of mobile gamers worldwide.
BEACH HEAD MOBILE (VR) is the first mobile game that can be viewed and played in normal 360º VR-3D as well as in Full Stereoscopic VR-3D modes. The device simply attaches to your phone rather than it being enclosed within the device. It does not restrict access to the touch-screen or the game controls at all.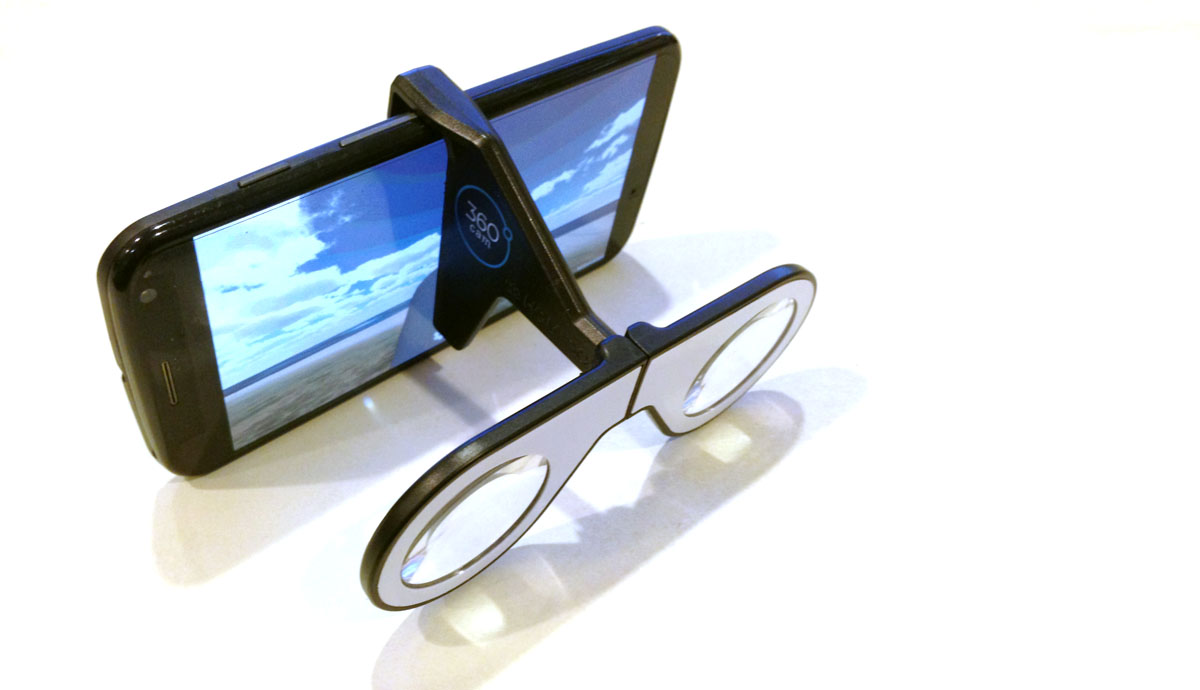 Interestingly enough there's no real difference in the experience, except for the benefit of no device fatigue or sickness sensation. Take your Stereoscopic 3D Glasses off anytime and switch to the discrete Tilt-Mode, especially at the airport or in flight, as your BEACH HEAD MOBILE (VR) Gear will be no concern to airport security or TSA. Most importantly, there's no sacrifice of the "game play" at all. Because at the end of the day, game play is the most important element of a game as BEACH HEAD itself has demonstrated time and time again.
ENJOY THREE DIFFERENT PLAY MODES
One thing that's unique about BEACH HEAD MOBILE (VR) is the three different play modes that players can switch to with ease to suit whatever situation or mood you are in. Use the discreet Tilt Screen Mode while sitting on train or airplane, get physical with the free 360º All Around Mode, or go all the way with Stereoscopic 3D Glasses to go for the Full (VR) Experience. It's always your choice and you can switch anytime. Plus, it's the same game, the same score count and the same everything on any play mode you choose.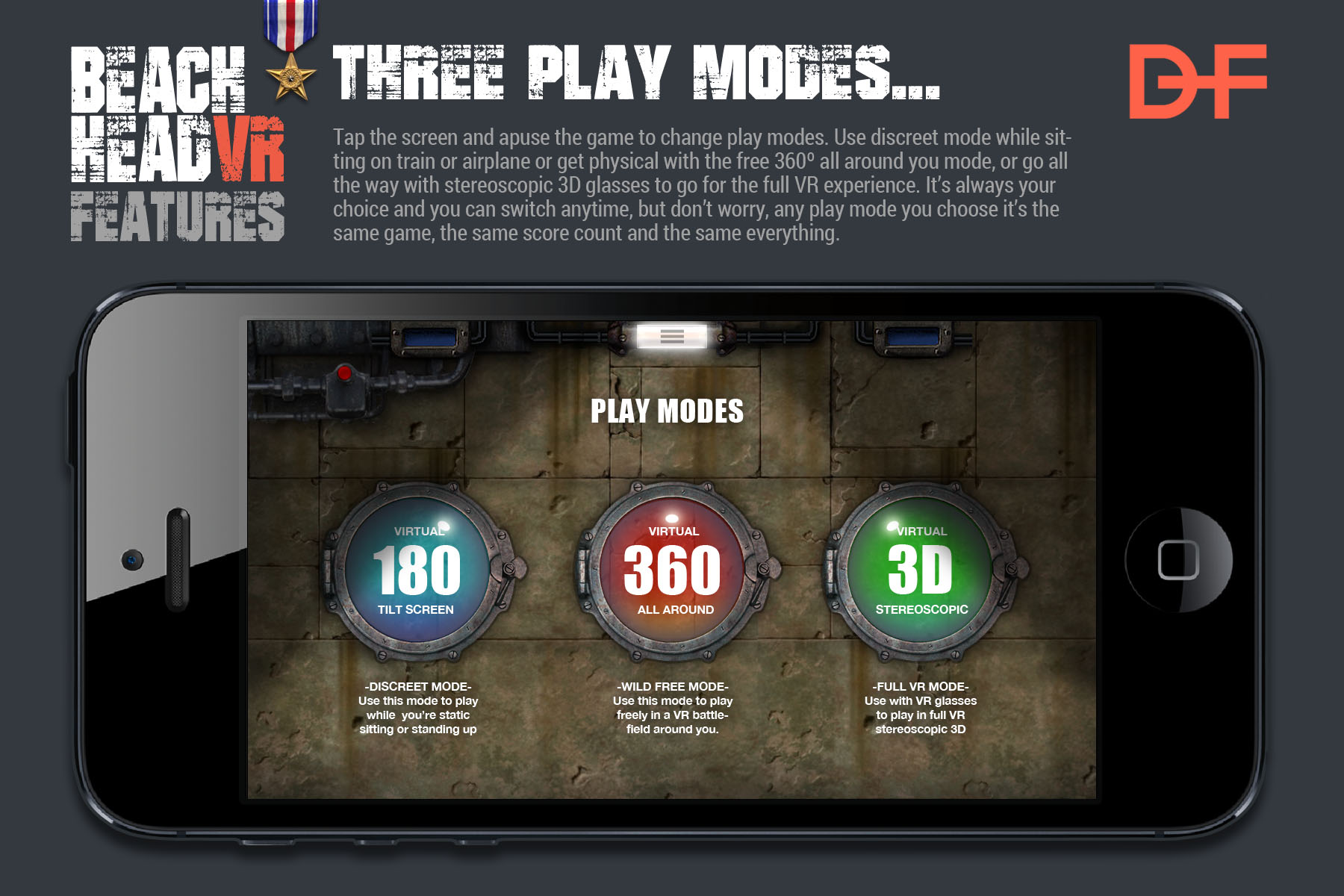 We are totally convinced that keeping it simple and keeping it true is the only way to go with games. It was true then and remains true today. Above all, games are supposed to be fun and compelling to play. Keeping it simple, addictive and easy to play goes a long way, the rest is important but is more like icing on the cake. We are not about to stray away from the principals that already made BEACH HEAD such a great success.